This is a very exciting addition to the Trollbeads bracelet line! The Bangle bracelet design has been created with a thick rounded cuff of silver that slips over the side of your wrist. This chic and stylish bangle is available in 4 sizes. You will need 2 Stoppers to use on either side to keep the beads on your Bangle.
Size Opening: Circumference equivalent to Bracelet Sizes
Ex Small- .95 inches 6.7, 7.1, 7.5,
Small- 1.23 inches 7.9, 8.3
Medium- 1.39 inches 8.7, 9.1, 9.4
Large- 1.5 inches 9.4 up to Mens sizes
Click on this link to purchaseStoppers!
Look how great the beads sit on the Bangle below!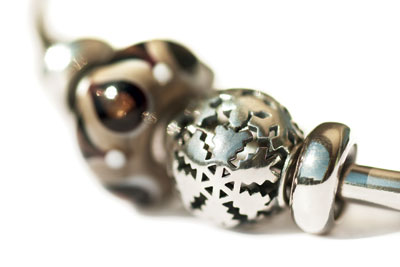 Reviews
Just got my Bangle, and I absolutely love it, I got the black faceted bead and it looks lovely, What I most love is how the bead stays in place, so i see it all the time...... ;) Im already thinking about getting another one!!!

A new way to wear our beads! :LOVE it so much